Samsung SCX-3405 multi function laser printer series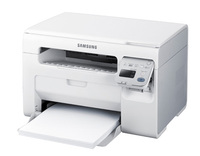 Samsung has announced seven additions to its multi-function printer range. The SCX-3405 series MFPs provide simple and reliable performance with print, scan, copy and fax solutions at a competitive cost. Targeted at small and medium businesses, the devices provide quick printing speeds alongside cost effective solutions.
"Small and medium businesses increasingly have demands for multi function printers that provide value in terms of cost and resource efficiency. We have responded by extending our already successful MFP portfolio to these customers with the launch of the SCX-3405 series MFPs," said Dion Smith, General Manager, Samsung UK Print Division. "The SCX-3405 series deliver functionality in the most cost effective way, making them an easy fit for small, agile working environments."
Easy Cost Control and Management
The SCX-3405 series has been designed to be as economically sound as it is environmentally friendly. The One Touch Eco Button allows the MFPs to operate in Eco mode thereby automatically saving power, toner and paper consumption for maximum cost efficiency.
In addition, the SCX-3405 series are equipped with Samsung's Easy Eco Driver solution, enabling custom settings to manage and control printing costs. For example, in the Eco driver tab, users can avoid printing unnecessary text or images in a document without changing the original file, enabling a more efficient use of toner and paper. Moreover, you can print up to eight slides or pages onto one single page to increase the cost saving attributes of the SCX-3405 series.
The Results Simulator within the Easy Eco Driver solution shows users the expected results of reduced CO2 emission, electricity usage, and paper and toner consumption for the document to be printed in accordance with the user's settings. Additionally by changing particular settings, users can see expected cost and environmental implications thereby making them aware of the potential energy and cost savings of the settings they choose.
The SCX-3405 series include Samsung's Easy Printer Manager, which allows easy real-time monitoring of MFP usage as well as easy-to-view statistics on printer maintenance, ensuring quick and accurate reporting. The SCX-3405 series employs an integrated single management programme, which allows the user to monitor other Samsung MFPs on a single screen for maximum usability.
Wireless Mobile Printing
As mobile printing becoming more and more an important aspect of the modern business life, the wireless enabled models (SCX-3405W / 3405FW) enables users to both access and print files / documents from any mobile device installed with Samsung's MobilePrint app available on Android and iOS platforms. While conventional PIN methods require a 10-step set up procedure on a wireless network, Samsung's one-touch wireless setting (WPS) enables users to be connected with the MFP through an access point / router in just two minutes.
In addition, the Wi-Fi Direct feature makes it possible to connect Wi-Fi Direct enabled mobile devices to the MFP directly without any access points leaving out complicated start-up processes and device configurations.
The Need for Speed
A high level of fast and reliable performance is vital with multi function printers, and Samsung's SCX-3405 series additions deliver this seamlessly. Powered by a fast 433MHz core processor with up to 128MB memory, the devices can print up to 20 A4 pages per minute.
Scanning is easy and efficient, enabled by the inclusion of a variety of user-friendly features. The SCX-3405FW also has a fax connection, enabling enhanced Fax-to-PC and PC-to-Fax functions.
Pricing and Availability
The series will be available from February 2012 at £129.99 for SCX-3405, £149.99 for SCX-3405W and £169.99 for SCX-3405FW. For more product information, visit samsung.com/uk/printer.