Ricoh delivers mono sheet fed production flexibility with Pro™ 8300 series
Ricoh Europe, London, 26 February 2019 – Print shops, Corporate Reprographics Departments (CRDs), commercial printers, offices and schools can now enjoy greater mono production flexibility and capability with the Ricoh Pro 8300 series of sheet fed presses.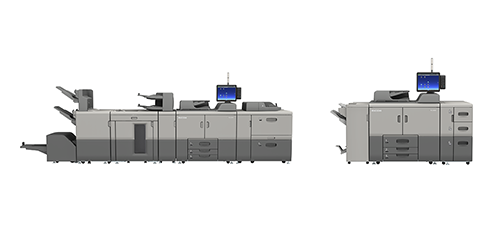 The series replaces the Ricoh Pro™ 8200 mono platform. It comprises two higher speed production models that run at 111ppm and 136ppm, aimed at CRDs, print shops and commercial printers, and a smaller foot print 96ppm solution designed for offices, government environment and schools.
The fastest model delivers an increased monthly duty cycle (maximum monthly volume at rated speed) of four million, and features a new finisher capable of 30 sheet booklet production at 80gsm and a new cover interposer with air assist supporting coated media up to 350gsm. It also has dual shift trays with a 4500 sheet stack capacity to maximise productivity as well as trimming, and long sheet handling peripherals designed to support versatile green button production. The combination of these new options will expand application opportunities for books, brochures and manuals.
The more compact press incorporates a small finisher and a shift sort output tray ideally suited to production environments with limited space.
Both solutions use Ricoh VCSEL technology at 2400 x 4800dpi to deliver high quality print output. They also both feature a 17 inch touch screen colour panel for fast and easy set-up. The panel screen can be accessed on a tablet enabling remote operation. It also shows the EFI controller interface, eliminating the need for a dedicated display.
"This new versatile family enhances our mono sheet fed press portfolio and responsively meets the fast turnaround short run production demands shaping today's print landscape," says Eef de Ridder, Vice President of Commercial Printing, Commercial and Industrial Printing Group, Ricoh Europe. "Designed with the core elements of simple operation, ease of set-up and reliable streamlined workflow, they are tailored to deliver high quality results that perfectly meet the needs of these key market sectors."
The Ricoh Pro 8300 series of presses will be available across Europe from March 2019.
For more information visit www.ricoh.co.uk.
|About Ricoh|
Ricoh is empowering digital workplaces using innovative technologies and services enabling individuals to work smarter. For more than 80 years, Ricoh has been driving innovation and is a leading provider of document management solutions, IT services, commercial and industrial printing, digital cameras, and industrial systems. Headquartered in Tokyo, Ricoh Group operates in approximately 200 countries and regions. In the financial year ended March 2017, Ricoh Group had worldwide sales of 2,028 billion yen (approx. 18.2 billion USD).
For further information, please visit
www.ricoh.co.uk
For further information, please contact:
Ricoh UK Ltd
Jonathan Reader
Tel: +44 (0) 1784 416 900
Email:
press@ricoh.co.uk
" rel="noopener noreferrer" target="_blank">press@ricoh.co.uk
Read our insights at:
www.insights.ricoh.co.uk
Homepage:
www.ricoh.co.uk
Join us on Facebook:
www.facebook.com/ricohuk
Follow us on Twitter:
www.twitter.com/ricohuk
Connect with us on LinkedIn:
https://www.linkedin.com/company/ricoh-uk
Visit the Ricoh media centre at:
https://www.ricoh.co.uk/news-events/news/index.html