NEWS -- FOR IMMEDIATE RELEASE

Pennsylvania Print Business Upgrades with EFI VUTEk Printer to Drive Rapid Inkjet Graphics Growth

FREMONT, California – February 25, 2016 – EFI
™ (Nasdaq:EFII) today reported that Laurel Print & Graphics installed an EFI VUTEk® H2000
Pro printer with a double-white ink option. The 80-inch (2-meter) wide, UV hybrid roll/flatbed device meets increased demand for signage and graphics products, and is the latest upgrade in wide-format inkjet technology for the repeat EFI customer.

Revenues at the White Oak, Pa.-based printing company have increased more than 69% over the past two-and-a-half years. Its staff has grown from three employees to seven and plans are in place to hire an eighth employee soon. Continued productivity in wide-format printing on EFI equipment has been an important factor in that growth. Working with authorized EFI inkjet technology reseller Nazdar Sour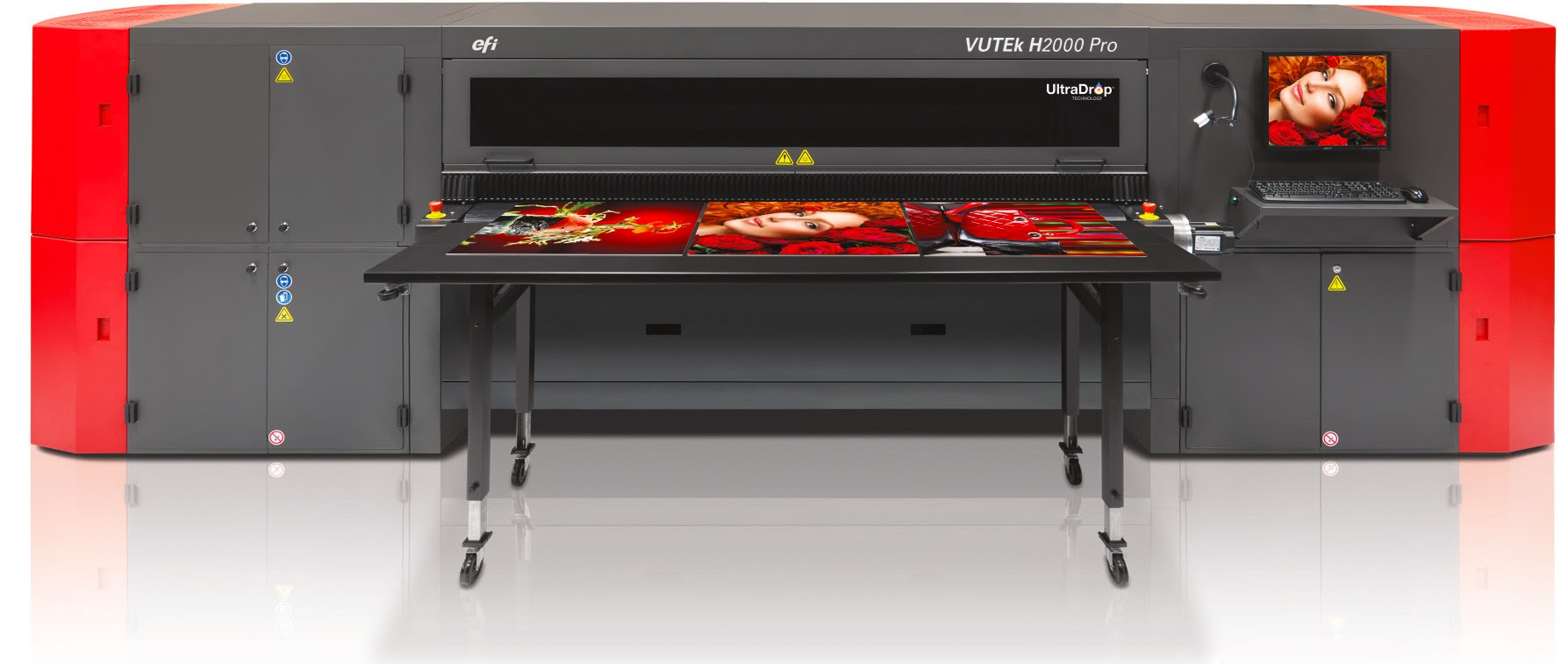 ceOne, Laurel Print & Graphics first purchased a 65-inch wide hybrid EFI Wide Format printer a few years ago, and then replaced it with a newer 65-inch wide model before making a third call to Nazdar SourceOne to upgrade once again with the wider EFI VUTEk printer installed this month.

The biggest benefits for Laurel Print & Graphics come from the speed increase on an EFI VUTEk printer that runs up to 20 4x8-foot boards, or 1,050 square feet, per hour, while still providing the consistent, accurate color imaging customers expect.

EFI: A brand that understands LP&G's high-quality philosophy

"Our business is really built on quality," said Laurel Print & Graphics President Keith Jones. "We try to produce high-quality work and we're using that as our business model. We don't just run jobs – everything has to meet our standards. If something is wrong with a job, we pull it."

Fortunately, Laurel Print & Graphics' succession of EFI printers has helped the company enhance its reputation for superior work. "EFI has allowed me to expand with our business model," Jones said. "Customers see what we can do, and they keep coming back. That is one of the reasons we bought the VUTEk H2000 Pro printer – I wanted to increase production, but maintain the quality."

Laurel Print & Graphics produces a wide range of inkjet signage products, including point-of-purchase displays, window graphics, thermostatic clings and banners. And the company runs numerous jobs on clear substrates and acrylic, making the double-white option even more critical for increasing capacity.

"We were running our previous hybrid printer eight hours every day and we were maxing it out," said Jones. The new printer has resulted in a "huge increase" in productivity, he added, with an 85% boost in throughput on flatbed-printed work.

"EFI's service is second to none," Jones also noted. "If something goes wrong or we have a service call, they're here when we need them. And the equipment, for us, just has a track record of outstanding quality."

Boosting both performance and the bottom line

Laurel Print & Graphics' new printer features UltraDrop™ Technology, which uses smaller drop sizes and more precise control with native 7-picoliter print heads and true multi-drop addressability in each dot position. UltraDrop Technology, which allows for outstanding smoothness in shadows, gradients and transitions, is one of several high-quality advantages on the company's EFI VUTEk printer installation, including:
Expanded-gamut inks plus single-pass, multi-layer print capability for premium-margin jobs and more profit opportunity;
Superb text quality with four-point text in both standard and knockout with fewer satellites and more clarity in all print modes;
Increased throughput and application versatility in roll-to-roll work with optional unwinders and rewinders;
True 600 or 1000 dots per inch resolutions.
Along with its new EFI printer purchase, Laurel Print & Graphics also upgraded the EFI Fiery® workflow it uses to drive wide-format inkjet production by installing the latest-version EFI Fiery proServer.
The proServer features FAST RIP, an EFI-developed acceleration technology that improves processing even on complex images using advanced file compression algorithms and memory management tools. FAST RIP and additional new technological improvements provide a 60% average processing speed improvement for EFI VUTEk users compared previous proServer versions.

For more information about high-quality inkjet graphics production using EFI technologies, visit www.efi.com
or call 800-875-7117.

About EFI

EFI™ is a global technology company, based in Silicon Valley, and is leading the worldwide transformation from analog to digital imaging. We are passionate about fueling customer success with products that increase competitiveness and boost productivity. To do that, we develop breakthrough technologies for the manufacturing of signage, packaging, textiles, ceramic tiles, and personalized documents, with a wide range of printers, inks, digital front ends, and a comprehensive business and production workflow suite that transforms and streamlines the entire production process. (www.efi.com)

Follow EFI Online:

Follow us on Twitter: @EFIPrint
Find us on Facebook: www.facebook.com/EFI.Digital.Print.Technology

View us on YouTube: www.youtube.com/EFIDigitalPrintTech