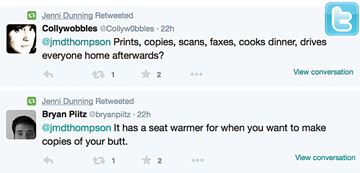 Jokes fly after Midland council agrees to buy $27,000 copier
Midland Mirror
MIDLAND – The Town of Midland plans to buy a Xerox machine for a whopping $27,000 – a deal compared to the original price.
The Xerox C60 copier has a range of features, including printing, copying and scanning. Its Canadian government purchase price is nearly $44,000, according to a staff report submitted to council.
Although the town got a lower price, some people on Twitter had some fun regarding the expense of the office equipment (see image at right).
The town got the lower price after consulting the City of Barrie, which recently did an "extensive" request for proposals for a new Xerox machine, read the report.
"Treasury staff analyzed the cost differential between leasing a copier or purchasing and, provided that we retain the copier for six to seven years, purchasing is the better option," read the report.
Council approved a recommendation to buy the copier during its meeting Monday.
The copier will replace the existing one, which was bought in 2008 and is used by several town departments.
What will the town do with the old one? Coun. George MacDonald had a tongue-in-cheek suggestion: "You can use it as a boat anchor."