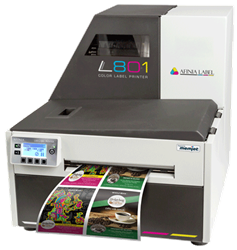 Our clients can now take advantage of full-color primary and secondary label printing.
Chanhassen, MINN (PRWEB) June 07, 2016
Afinia Label, The Narrow Web Memjet Experts, announced today that they have completed a reseller's agreement with Sidco Labeling Systems of Santa Clara, California. Sidco will be selling the Afinia Label L801 Color Label Printer; Epson® ColorWorks™ C3500, C831, and C7500 label printers; and related supplies.
"Sidco is an international supplier of custom labels, labeling equipment, barcode systems, and related software," said Mike Atkins, Afinia Label's National Sales Manager. "With more than 30 years in the industry, Sidco Labeling Systems offers valuable expertise, training, installation, and technical support. The Afinia Label L801 and Epson ColorWorks inkjet label printers are a nice addition to their thermal printer offerings."
The Afinia Label L801 Color Label Printer is powered by Memjet technology, which gives it a print speed of 60 feet per minute and an industry-leading ink cost of less than 3 cents for a 4" x 6" label with 75% coverage. This is a fraction of the cost of other inkjet label printers. The L801 supports 3 print modes: Roll to Roll, Roll to Cut, Print & Hold.
Epson ColorWorks Label Printers are designed for on-demand, short-run primary and secondary label production. They also comply with BS5609 standards, when used with a proper label substrate.
Michael Fornari, Sidco's General Manager observed, "Before deciding to work with Afinia Label, our label printer options were all thermal barcode printers. We were interested in rounding-out our offerings with a full-color, fully digital, narrow web solution and found the L801 and Epson ColorWorks label printers to be a nice fit. Our clients can now take advantage of full-color primary and secondary label printing."
Afinia Label emerged as a digital label printing system leader in 2012 when they collaborated with Memjet to create a commercially viable narrow web label printing solution. Afinia Label is now one of the largest distributors of Memjet-based label printers in the world.
Sidco comes alongside businesses and proactively provides solutions to labeling problems. Their products include label and barcode printers, software, barcode scanning and imaging equipment, labeling supplies, technical services, and compliance expertise such as FDA, UDI, and OSHA/GHS. This diverse product offering empowers Sidco to be a single-source provider of labeling systems, giving the end user the ideal solution for their particular needs.
Afinia Label is a division of Microboards Technology LLC, a leader in specialized printing solutions. Their twenty-year history includes leadership in disc duplication, 3D printing and, most recently, digital label printing. More information can be found at http://www.AfiniaLabel.com or by phone at 1.888.215.3966.