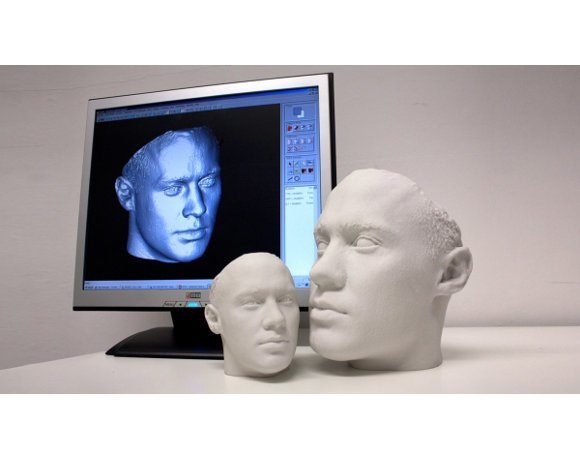 3D printers are hot, and they got even hotter after President Obama made mention of them in his State of the Union address this year. My google alerts now carries at least 10-15 mentions of 3D printers each week, before the State of the Union address, maybe 5 or 6 per week.
Maybe you have or may be thinking about getting that 3D printer, could we possible see 3D MFP's (multifunctional device) that will scan 3D and copy 3D items in the near future?
Think about it, if I'm a novice user with a 3D printer and I'm really not good with engineering software or I'm tired of the template files that came with my 3D printer, why the heck would I want one? Where I see the value at least for me, is the ability to place and item on the 3D MFP and then make copies of them. Think of it, you could make a copy of just about anything, whether it's a small part, a sculpture, knick knacks, flower pots, or whatever the heart desires. I'll admit I'm knew to the entire process of 3D printing, however if we had a 3D MFP would we'd be able to scan an item and then have that data transformed into a CAD or some type of engineering file. Better yet, what about sending a copy of that item to another 3D printer that could be located anywhere in the world. Could there be a 3D printer portable image format that's just dedicated to 3D MFP's for copying and scanning? Would I be able to them email that to someone else?
Maybe 3D MFP's could be the first replicators that were used in Star Trek in the seventies. I'm thinking there is a place for 3D MFP's in the very near future. Would it be farfetched that we could scan out favorite pet and keep the likeness of them around forever? Could we see color 3D MFP's in the near future? The possibilities can become endless, but could also open up new businesses opportunities for those creative entrepreneurs.
Why haven't we seen any of the major copier manufacturers enter the industry? It's a no brainer to me, closed consumables, service contracts, onsite service and training it's all there. 3D printers would be a great additional to your dealerships portfolio of products and services offered also!
3D printers, 3D MFP's (maybe), but for right now it seems like it's the Wild, Wild West about this for this growing industry.
-=Good Selling=-